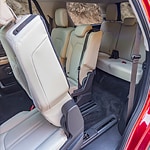 At Kia of West Nyack in West Nyack, NY, we have many SUVs in our inventory. Consider purchasing an SUV because they are safer, great when off-roading and they handle cargo well.
If you enjoy off-roading, an SUV is a great vehicle to take. The SUV does very well on rugged terrain and dirt roads if it has four-wheel drive and hill descent control. SUVs also can go through water easily. Many SUVs can ford through water up to two feet.
An SUV is also great because it is a safe vehicle. The reason SUVs are so safe is that they are bigger and heavier than cars, giving them an advantage in a collision. Also, you can see more of what's going on around you because you are sitting higher up. People who drive SUVs tend to have higher peace of mind because they are higher off the ground.