Today's Hours:

7:30 AM - 5:00 PM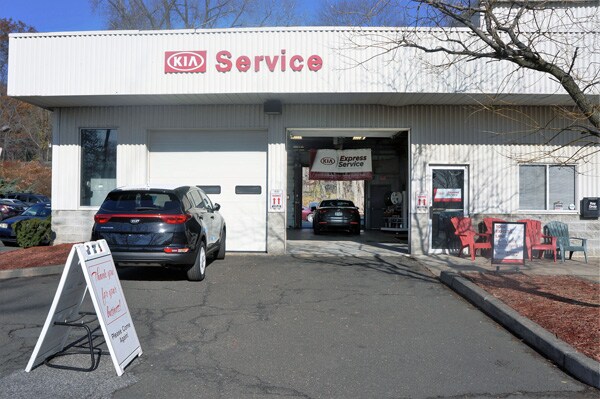 Experience Kia Certified Auto Service & Car Repair Near West Nyack
Finding a reliable and trustworthy mechanic can be challenging when you have dozens of options to sift through. Instead of thumbing through dated yellow pages or trusting a shady recommendation, check out Kia of West Nyack. Our team of professional advisors and knowledgeable technicians deliver top-notch car repairs and upkeep in West Nyack, New York. From oil changes to complete vehicle overhauls, our team has the tools and resources to complete factory-grade service. Schedule an appointment with our online service form, or give us a visit at 250 Route 303 North today!
Common Maintenance Services
Curious to know what services we regularly perform for local drivers? While we replace and repair everything from interior trim and window regulators to suspension and emissions devices, we often complete services such as:
Quick Oil Changes
If you're interested in protecting the value of your vehicle and avoiding costly engine repairs, receiving frequent oil changes and oil filter replacements can save your engine from excessive friction and heat. As oil breaks down, it loses the ability to protect the valuable internal components of your engine from harmful particles, sludge, and oxidation. At Kia of West Nyack, we recommend using synthetic oils that utilize additives for maximum performance and protection.
Filter Replacements
Noticing an odd smell when you turn on the heating or cooling in your vehicle? Notice a decrease in engine performance in Yonkers? It may be time to replace one of the many filters located within your car. Our team has the know-how to replace engine intake and cabin air filters and ensure you and your Kia have clean air to breathe. We can also replace oil and fuel filters that protect your powertrain from damaging dirt and debris.
Complete Brake Repairs
Our experienced technicians utilize high-quality brake parts, including pads, shoes, calipers, and rotors for all types of vehicles. If you hear a screeching noise or your vehicle pulls to one side when braking, it may be time to have our Kia service center inspect your brakes for signs of wear. Our team knows how to repair the brake system on a wide variety of vehicles, including other popular brands you may find in our used vehicle inventory. Ensure your vehicle is ready to stop when you are by having your brake system inspected during every regularly scheduled maintenance appointment.
Tire Rotations and Replacement
While oil changes and brake repairs are popularly discussed services, tires are one of the most critical pieces to the safety and performance of your vehicle. Your tires are the only point of contact between your car and the road, so having the proper tread depths, tire sizes, and rubber compounds are essential to your daily drive. Our team will inspect your tires for signs of wear before performing a tire rotation and suspension alignment. If you swap tires depending on the season or want to look for new tires, our service advisors can help you find tires that designed for your vehicle.
Battery Testing and Replacement
Cold winters and hot summers can cause batteries to hold a reduced charge over time. Regular battery testing is one way our team helps drivers avoid jumpstarts. While there's no regular interval for testing, we can run a test to check operating voltages and inspect for faulty wiring during any service appointment. If we suspect that a faulty alternator or weak battery will leave you stranded in the future, we'll recommend Genuine Kia replacements to ensure your car or SUV is ready for the open road.
We Utilize Genuine Kia Parts & Accessories
Using factory-grade Kia parts designed for your specific Kia car or SUV, we can ensure your vehicle is optimized for longevity and efficiency when repaired at Kia of West Nyack. Aftermarket parts tend to have less research and development time than Genuine Kia Parts, which can lead to problems on future drives through Spring Valley, NY. When you visit our Kia dealership, you'll receive exceptional service and properly fitting parts that meet stringent safety and reliability standards.
Another reason for using OEM parts is the ability to ensure your warranty isn't affected by repairs. Third-party shops may use cheaper aftermarket parts that risk voiding your extensive manufacturer warranty or leaving you stranded on the way to White Plains. Our parts center experts supply our technicians with the correct parts for every job, ensuring you can drive confidently every time you leave the house.
Schedule Your Next Service Appointment
To keep your vehicle running like new day after day, we strongly encourage our customers to schedule routine maintenance and tune-ups. Looking for added convenience when it comes time for your next automotive service? Our service center near New City, NY, can quickly and correctly diagnose any repair job so that you can get back on the road in a timely manner. Use our online service scheduler to make your next appointment, or call us at 888-457-7968 to speak with a Kia of West Nyack representative today!
Welcome to Our Service Department
At Kia of West Nyack, our highly qualified technicians are here to provide exceptional service in a timely manner. From oil changes to transmission replacements, we are dedicated to maintaining top tier customer service, for both new and pre-owned car buyers! Allow our staff to demonstrate our commitment to excellence.