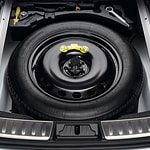 Here at Kia of West Nyack, we strive to educate our customers about vehicle basics. The more you know about your car, the better prepared you'll be on the road. One issue most drivers will have to deal with is getting a flat tire. Read on to discover the difference between a compact temporary and a full-size spare tire and why it matters.
If you have a small vehicle, your spare tire is probably a compact temporary one. This type is also known as a donut. As its name implies, this type of spare is meant to be temporary. It's not safe to drive on it for more than 70 miles, and you'll also want to drive no faster than 55 miles per hour.
A full-size spare can be treated like your regular tires. There's no need to change your driving habits. Just be sure to ensure it's rotated with the rest of your tires.